Heard of APPA? I'll spell it out for you. Australian. Professional. Photography. Awards. "APPA" for short. Sounds cool huh?
The event is a big deal, and though I can believe that I'm entering (because the deed is done and I have), what I can't believe is how quickly this has all come about.
Inspiration can be drawn from the oddest of circumstances. And so it was, with the moment my love of photography rekindled.
On 1 January 2014 after a respectfully sober new year's eve, my husband and I went to the movies. We saw The Secret Life of Walter Mitty in which Ben Stiller plays the part of the daydreaming, socially awkward Walter, a Negative Assets Manager at Life Magazine. While watching him handle negatives in the darkroom, swivel photographic paper in trays filled with chemicals, and produce stunningly beautiful images for the front cover of the magazine, I felt a spark in my heart and a fire in my belly that I knew full-well was that thing called passion. There it was, alive still, despite years of having laid dormant. It was a good time in my life to have found vibrance within once again, because within a few weeks of the new year both of my parents died, and I really, really needed some uplifting and a positive focus. The quick succession of their deaths was a shock. And I went into hiding for a little while.
In my seclusion, I dug out my camera from the back of the wardrobe and twirled the settings dial from auto to manual. This was a feat I hadn't yet dared to master with my digital SLR despite being professionally trained in photography way back when film cameras were all the rage; the only rage camera-wise, because that's pretty much all there was to choose from - unless you enjoyed polaroid or pinhole!
A short WEA course on How to Use Your Digital Camera followed with the tutor inviting me to help at the judging of the Royal Adelaide Show Photographic Awards. I've been involved with that dedicated group of volunteers ever since.
Around the same time I began dabbling in surf photography. It reminded me of how much I used to love photographing sport, and of the forgotten dream I'd once had of one day photographing AFL matches.
Later that year I was driving down Fullarton Road and decided to reminisce by dropping into Atkins Technicolour. It was my first workplace, and a special one at that. It represented individuality and freedom to me, being the place to which I escaped after dropping out of school matriculation in the mid 80s. I loved working alone in the darkroom printing Cibachrome murals. That room was mine, all mine! Opening the door that day, at number 89 Fullarton Road, was like turning back time. As I stepped inside a flood of memories returned. Thirty years had passed since I'd worked there, yet the passion of darkroom work and bringing a photographic print to life returned like it was yesterday. My eyes welled up. And that sealed the deal for me. I knew I had to pursue photography once again.
I joined the Australian Institute of Professional Photography (AIPP). I didn't aspire to much at the time, certainly not of becoming one of the "accredited ones", but I believed (and still do believe) there's great value in being part of a membership organisation tailored to your career, or as is my situation right now, a fervent passion. There is so much to learn. I'm working on that passion becoming my income and it is more likely to do so with the support of a professional body like AIPP to turn to for resources.
I upgraded my camera and experimented with photographing surfing legends Kelly Slater, Mick Fanning, John John Florence in magnificent locations throughout Australia and California.
"Imagine this as your life!", I would say to myself. Now I can't stop imagining it.
Earlier this year I had the courage to actually DO something with my AIPP membership. I attended an SA event. I met a couple of fellow members who inspired me even further, and I entered the South Australian Professional Photographic Awards (SAPPA). I thought this would be a good opportunity to be graded by my peers, so I could gain a better understanding of where I sit in a professional sense with my photography.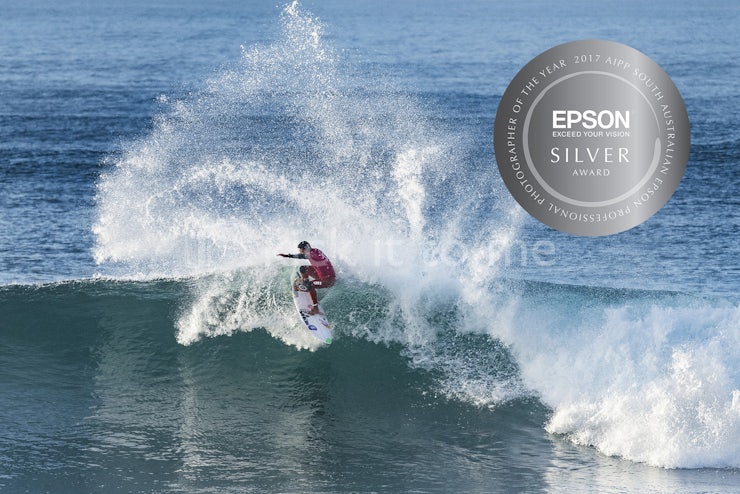 I was blown away to receive four silver awards at SAPPA. Yew!
Having been through the process of entering the state awards, I knew the Australian Awards - APPA - was the next challenge to stretch my neck out for.
So this is it and here we are. This year I'm losing my APPA virginity. In three days' time, I'll have received the judges verdict on my first lot of print submissions in the Australian Professional Photographic Awards. If an award does eventuate, I'll be drinking champagne this Friday night. If not, I'll likely have champagne anyway because it's been a hell of a fast and furious ride getting here and I am celebrating feeling alive with passion again.
I love what I do to such an extent that one day, I'll have been around the traps so long I'll be an APPA slapper. I want to be so well-versed at the process of entering images for national judging that the photographing, selection, editing, paper choice, printing, digital submission, label application, packaging and posting becomes so second-nature, I can do it with my eyes closed. Well, maybe not the photographing with my eyes closed....
Yep, I wanna be an APPA slapper, with a few gold gongs under my belt to boot. What's your passion and what do you aspire to?